With the temperatures warming up, we're planning on spending a lot more time outdoors with our dogs. What could be more fun for Fido than chowing down on some delicious, frosty treats on a warm summer's day. All your neighbor's pooches are sure to be jealous. Here are 5 pawesome, Fido approved recipes you can serve the next time the temperatures are hot that we promise will make you the bark of the neighborhood!
1. Chicken Pops
For the healthy, Doga loving pup, here's a healthier recipe with flavor that will make your pooch go bonkers. During the dog days of summer, sometimes Fido needs something healthy but icy to help cool him down. What better way than whipping up a couple of chicken pops? This super simple recipe will keep your pup occupied and will help him cool down. It's a win win!
2. PB & J pops
Watch out, this next dog treat is so simple and yummy, it will have you stealing from your dog's bowl. This one takes a little bit of time and dedication (you freeze the popsicle in layers), but the result is delicious and kind of a unique piece of art. Bone-us: Replace the raw hide popsicle sticks and you can eat these yourself!
Let your pup take part in this summer staple, the frozen banana treat! This potassium rich snack will help your pup replenish his energy after a long day of running on the beach. This treat is so simple and easy, you might find yourself popping a few in your mouth.
During your neighborhood backyard barbecue, chances are Sparky is standing there looking up at you with jealous eyes. Now your pups can get in on the cook out fun too. These Cheeseburger pops will both keep your dog entertained for long periods of time and have them barking for more. Simply take some left over cooked hamburger meat and put it into some ice cube trays. Add a bit of water and/0r broth and freeze for 2-3 hours.
5. Frozen Yogurt Dipped Strawberries
If your dog is quite the fancy pooch, this yummy snack might be just the thing. These fancy wonders are so easy to make AND are a great source of antioxidants.
—
What next? 6 More Homemade Doggie Treats — Remember, all the recipes seen here should be given to your dog sparingly. Although he'll undoubtedly find them delicious, too much of a good thing could be bad. For a complete list of foods your dog shouldn't eat, check out our blog post. If you're hosting a dog on vacay, these treats will ensure that no pup will ever want to leave your home!
Written by Priscilla Liang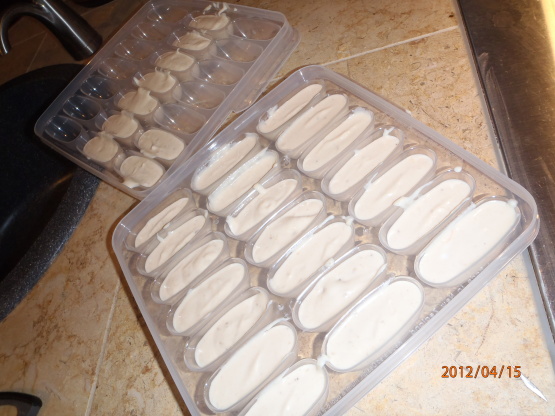 Comments